Maple Balsamic Roasted Brussels Sprouts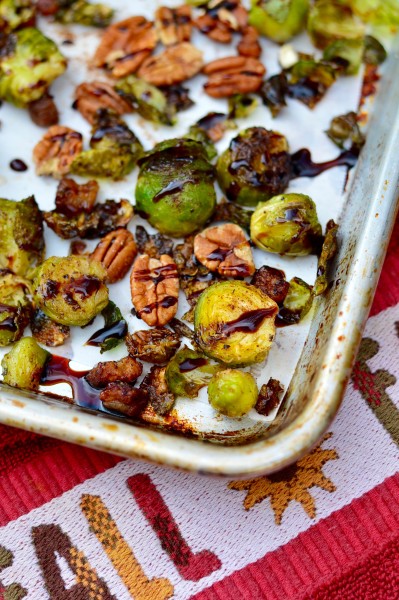 Dana:
Real Food with Dana
Serves:
4-6 side dish servings
½ cup raw pecan halves*
6 slices thick-cut bacon, chopped into bacon bits
2 pounds brussels sprouts, stems trimmed, halved
1 Tbsp coconut oil
1 tsp cinnamon
½ tsp kosher salt
¼ tsp black pepper (optional)
2½ Tbsp balsamic vinegar
1 Tbsp maple syrup
Preheat your oven to 350 F and line a large rimmed baking sheet with parchment paper. Place the brussels sprouts in a large, heat-proof mixing bowl.
Place pecans on the prepared baking sheet and bake for about 5 minutes, until lightly toasted. Make sure to watch them closely because they burn fast! Transfer nuts to a cutting board and let cool before chopping them coarsely. Set aside for later.
Increase the oven temperature to 400°F.
In a medium sized skillet over medium heat, cook the bacon bits until crispy, about 5-6 minutes, stirring often with a wooden spoon so they don't burn. Once cooked, remove the bacon to a paper towel lined plate to cool.
Carefully pour the remaining bacon fat (about 1-2 Tbsp) into the bowl with the brussels sprouts. Add in the coconut oil, cinnamon, salt and pepper, and stir to combine with a wooden spoon.
Pop the pan in the oven and roast the sprouts for about 20 minutes, then stir them with a wooden spoon. Turn the oven down to 375 F and cook the sprouts for about 10 more minutes. They should be fork-able, browning and caramelized when they're finished.
Transfer to a serving bowl and toss with balsamic vinegar and maple syrup to coat evenly.
Just before serving, fold in the pecans and bacon, then adjust salt and pepper to taste.
*To make this recipe autoimmune friendly, just omit the pecans and black pepper.
Recipe by
Real Food with Dana
at http://www.realfoodwithdana.com/maple-balsamic-brussels-sprouts/